Kerst Special
Recepten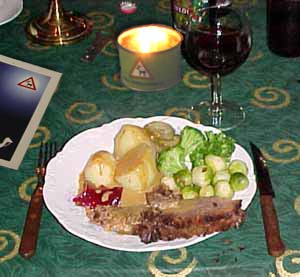 Wat te eten met kerst? Natuurlijk wild. Blasé van konijn, hert of struisvogel? Probeer eens Wilde Eland. Eland heeft een bijzondere smaak en is betrekkelijk gemakkelijk klaar te maken. Het enig wat het echt nodig heeft is tijd. De eland was lange tijd met uitsterven bedreigt (omdat het zo lekker is natuurlijk), maar gelukkig gaat het nu een stuk beter met de eland-stand en is het ook in de reguliere handel weer volop verkrijgbaar. Bij onderstaande adressen kunt u vast terecht:
Waar moet u op letten bij de aanschaf van een eland? De echte kenner schiet zijn eland natuurlijk zelf. De jager moet erop letten, zijn kruit niet te verspillen aan te jonge (te klein) of te oude (te taai) elanden. Elanden zijn erg groot, u doet er dan ook goed aan met veel vrienden te gaan jagen. Niet alleen hebt u ze hard nodig bij het verslepen van de eland, u kunt ze ook goed gebruiken bij het opeten. Elandvlees is overigens heel goed in te vriezen. Het is dan ook het meest waarschijnlijk dat u uw eland bij uw speciaalzaak in de vriezer zult vinden.

Chinese Mooseschotel
Ingrediënten:
1 deel elandvlees in dobbelsteentjes
1 deel bacon in dobbelsteentjes
1 deel gesnipperde ui
1/2 deel in dobbelsteentjes gesneden aardappel
kokend water
Recept:
Bak de bacon in de koekenpan. Voeg de eland toe wanneer de bacon halfgaar is. Wanneer de eland bruin is, voeg uien en aardappelen toe. Wanneer de groente halfgaar is, voeg zoveel kokend water toe dat het vlees onder staat. Laat sudderen, voeg peper en zout toe. Serveer met rijst en sojasaus.

Moose Hangover Sandwich
Voor als u behoorlijke hoeveelheid eland en dito kater heeft
Ingrediënten:
6 behoorlijk grote Moose-steaks
6 kopjes water
2 kopjes maizena
4 kopjes paddenstoelen
1 grote ui, gesneden
6 sneden brood
zout en peper
4 kopjes warm water
Recept:
Doe de steaks met het zout en de uien in een braadpan. Voeg de 6 kopjes water toe. Laat een half uur koken. Voeg de paddestoelen toe en laat 5 minuten doorkoken. Meng de maizena met het warme water, roer tot en geen klontjes meer zijn. Voeg toe en kook in. Doe de steaks op brood en doe er een flinke lepel jus over.